Alumex PLC, the leading aluminium manufacturer in Sri Lanka, announced the conclusion of a successful programme for its Lumin Certified Fabricators Club – an exclusive community recognising the most skilled and certified fabricators for Lumin products.
With an unwavering commitment to supporting the local fabricator community since 1986, Alumex has revolutionised the aluminium sector and earned the trust of thousands of consumers with its premium brand, Lumin. The Lumin Certified Fabricators Club was subsequently initiated to provide customers with unparalleled service and the best craftsmanship, by ensuring the availability of well-equipped and well-trained fabricators.
Held in June 2023, its latest ground-breaking initiative, seamlessly connected the Lumin Fabricator Community while facilitating the exchange of invaluable insights into market trends and opportunities. The programme's highlights included distinguished guest speakers from external organisations and engaging presentations by renowned thought leaders. They shared invaluable advice on navigating the ever-evolving aluminium fabrication landscape with topics such as 'Discovering Unseen Possibilities Amidst Crisis'.
Mr. Pramuk Dediwela, Managing Director, Alumex PLC commented, "At Alumex PLC, we are committed to supporting the development of the aluminium facade industry in Sri Lanka. Through our comprehensive training programmes, we not only equip fabricators with technical knowledge and skills but also instil in them the spirit of entrepreneurship."
For over 25 years, Alumex has been dedicated to the development and empowerment of local fabricators. Over 20,000 skilled fabricators have graduated from its renowned training schools, contributing to a more skilled and competent construction industry in Sri Lanka. Furthermore, Alumex plans to continue its training initiatives to ensure a steady supply of well-equipped fabricators for the future with the capability to work with globally renowned Aluminium Proprietary Systems.
Lumin, Alumex's flagship brand, is the only brand in Sri Lanka offering tested products from accredited independent laboratories such as UKAS, assuring customers of the highest quality and reliability. Lumin products have garnered the trust and loyalty of discerning consumers throughout Sri Lanka.
Customers can access technical support for designing and developing advanced aluminium door and window systems tailored to their requirements at Lumin Centres established across the island. These centres showcase Alumex's dedication to providing futuristic solutions to the local market, as demonstrated by their consistent performance in the past.
Regular training sessions keep Lumin fabricators informed and trained about new arrivals and product features. The training programmes also provide valuable knowledge on how fabricators can enhance their current establishments to reach the next level of excellence.
With their strong market presence and unwavering support for the fabricator community, Alumex PLC is set to maintain its position as the most trusted and number one aluminium brand in Sri Lanka.
Founded in 1986, Alumex PLC is a subsidiary of Sri Lankan multinational and diversified conglomerate Hayleys Group. Alumex is a fully integrated manufacturer of aluminium profiles in Sri Lanka. With over 35 years of industry expertise, the company develops and manufactures aluminium extrusions for an extensive suite of applications and systems, such as the fabrication of doors, windows, shop fronts, curtain walls and other specialised commercial applications, including globally renowned aluminium proprietary door, window and façade systems under license.
With a wide range of architectural, residential and industrial products made available through its national and retail distribution system, Alumex provides customers with products on par with the highest international standards. Alumex exports its pre-engineered products to the USA, UK, Canada, Australia, New Zealand, Singapore, Italy and Germany.
END
Photo Caption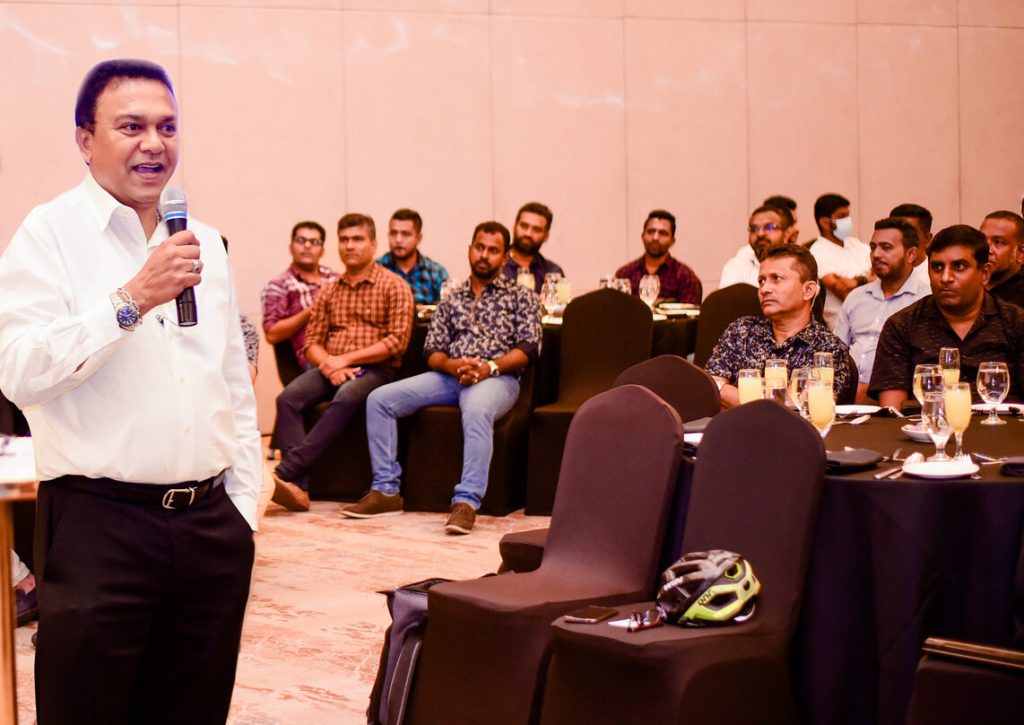 Mr. Pramuk Dediwela, Managing Director, Alumex PLC, addressing the members of the Lumin Certified Fabricators Club initiative.