Singer Finance, a pioneering financial service provider trusted by Sri Lankans for decades, recently celebrated the second anniversary of introducing Sri Lanka's first-ever QR-based mobile money collection service. This innovation reflects their unwavering commitment to revolutionizing financial solutions, with a particular focus on empowering small and medium-sized enterprises (SMEs).
The primary goal is to make savings more accessible and convenient for SMEs. With this initiative, Singer Finance brings the bank to customer's doorsteps, offering them an easy way to deposit their cash. This exceptional service results from the team's dedication to understanding the customer's lifestyle and requirements, culminating in a convenient, QR-based solution.
Thushan Amarasuriya, the CEO of Singer Finance, emphasized, "Singer Finance stands out due to our dedication to innovative customer-centric initiatives. Our QR-based mobile money collection service demonstrates our commitment to simplifying financial processes, making banking easy and convenient."
The QR-based mobile money collection service is a pioneering step towards empowering SMEs. Singer Finance has strategically placed QR code-equipped tills at shops and business locations, allowing owners and business proprietors to deposit cash directly into their savings accounts, including the savings for their children through "Muthu" minor savings accounts of Singer Finance. When they are ready to make a deposit, they simply scan the QR code with their mobile phones. Singer Finance deposit representatives will promptly visit, using GPS location tracking, to collect cash and validate the entire transaction digitally. The collected cash is then securely deposited into their respective Singer Finance savings accounts as a real-time transaction.
Moreover, this initiative not only offers convenience but also contributes to financial inclusion, bridging the gap for those with limited access to traditional banking infrastructure or online banking services.
Sampath Jayarathne, The National Head of Liability Sales & Marketing, at Singer Finance, further stated, "This initiative goes beyond convenience, it enables financial inclusion and simplifies the banking experience for all. SMEs are the backbone of our economy, and we are committed to helping them grow and succeed."
Singer Finance invites you to join them in celebrating this milestone as they continue to make savings more accessible, convenient, and rewarding. They remain committed to providing the best financial services in Sri Lanka, with a focus on exclusive offerings tailored to empower SMEs. Singer Finance encourages all its existing and potential customers, especially SMEs, to take advantage of this exceptional service and experience a new level of financial convenience.
Photo caption: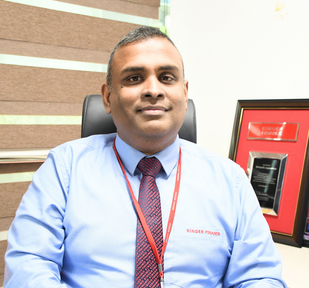 END