Cleantech (Pvt) Ltd., Sri Lanka's foremost provider of integrated waste management solutions, continues to champion environmental sustainability by showcasing its recent PET bottles and plastic collections at the Book Fair 2023. This initiative, reflecting Cleantech's unwavering dedication to responsible waste management, highlights the company's commitment to preserving the environment.
The recent Book Fair, a much-anticipated, collaborative event in partnership with Gunadamin Elephant House, saw Cleantech actively participating in plastic waste collection efforts. The results of the endeavor speak volumes about the company's environmental responsibility, with general waste totaling 29,000.00 kg, and 80,000 PET bottles collected.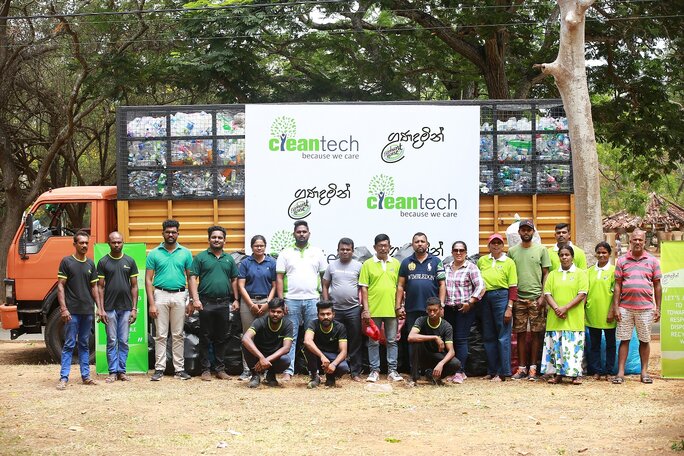 Kasun Thennakoon, Head of Circular Economy Services of Cleantech (Pvt) Ltd., expressed the company's vision, "At Cleantech, we believe in embracing unity for a Cleaner greener tomorrow. Our recent plastic collections at the Book Fair, along with our ongoing school programs and general waste collection efforts, are a testament to our commitment to environmental responsibility. We aim to inspire communities and create a lasting impact, with the Book Fair standing out as a remarkable showcase of our dedication."
In addition to the Book Fair initiative, Cleantech partnered with Gunadamin Elephant House to create a cleaner environment during the Katharagama Perahera Festival 2023, supported by Ruhunu Katharagama Maha Dewalaya and other partners.
During the festival, Cleantech and Gunadamin Elephant House, in collaboration with Voluntary social service organization collected an astounding 100,000 plastic bottles, a testament to their commitment to environmental preservation and the power of collective efforts in fostering unity for a cleaner Katharagama.
Cleantech's environmental responsibility extends beyond events and festivals, actively involving school awareness programs and general waste collection. With over two decades of experience in the field, Cleantech has earned a reputation for reliability and quality, collaborating with key government bodies to ensure the highest standards of safety and sustainability in their endeavors.
Cleantech (Pvt) Ltd. remains steadfast in its mission to create a cleaner, more sustainable environment for all. Through initiatives like those at the Book Fair, the Katharagama Perahera Festival, school programs, and general waste collection, they aim to inspire communities and drive lasting change in environmental preservation.
Cleantech for a Cleaner, Greener tomorrow.
END