Hatch, in collaboration with GIZ Sri Lanka and the EU, recently implemented "Green Innovation Lab" – an Agri Incubator program. This showcased the importance of prototyping new innovations and providing an enabling ecosystem to test, iterate and validate ideas for commercial viability. This is of paramount importance in transforming Sri Lanka's Agriculture Industry to significantly aid in the Nation's journey to economic recovery.

This incubator focused on innovations in: nutrition, sustainable packaging, equipment and machinery. Over 200 applications were received for this program from all parts of the island. 20 startups were selected for a "Hackathon" at Hatch in Colombo and 10 selected innovators proceeded to go through a 3 month immersive business incubator implemented by Hatch to finally showcase some amazing prototypes and products of their initial ideas at the Demo Day in September.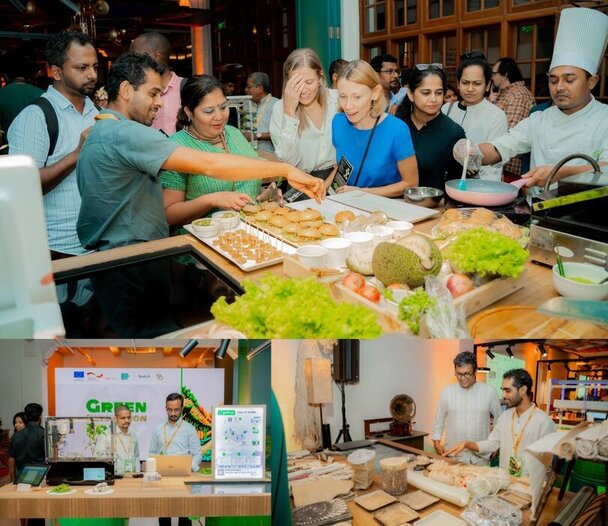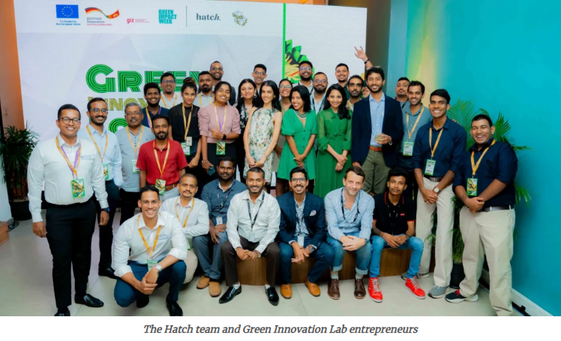 Speaking at the Demo day, Mevan Peiris Chief Program Officer for Hatch stated "Most of the entrepreneurs and innovators came into the program with just an idea. To see those ideas validated and transformed into actual prototypes and products in just a span of 3 months – shows the effectiveness and importance of business support programs like these".

Hatch is Sri Lanka's pioneering Innovation & Entrepreneurship development organisation and is considered the "centre of gravity" for startups and innovators. This notion is backed by the fact that Hatch has been operating a co-working space in Colombo for the past 5 years and today has over 1,000 Community members and 125 companies working out of the building. In addition, through Hatch's program vertical they have successfully implemented 18 different Business Incubator and Accelerators – having engaged with a total of 600+ startups in Sri Lanka as part of the larger Hatch network.
EU Delegation in Sri Lanka Program Manager Anita Ryczan, stated 'Sustainability is important, not only in Sri Lanka but also in Europe and on a global scale. Here in Sri Lanka, the EU is a long-standing partner in agriculture and now also engaged in partnerships promoting green growth. That's why we support initiatives like this program with Hatch. In order to foster eco-friendly enterprises, innovation is crucial. Our overarching objective is to boost green growth in Sri Lanka and in Europe, facilitating a harmonious coexistence between people and the environment'.
The Demo Day for Green Innovation Lab was an impressive showcase of products from the 10 final agri-startups. These included innovative sustainable packaging solutions from Kendi, Sebastco, Paper Story and Novapal made from agricultural waste, such as; banana fibre, coconut coir and sawdust. Novapal's shipping pallets made from sawdust waste are designed to provide customers with 60% space savings and are competitively priced in comparison to traditional plastic shipping pallets.
Several innovative agritech solutions were also on display; from govi.ai, an innovative enterprise designed to empower farmers with data-driven sustainable practices, utilising cultivation strategies to maximise crop yields and profit for farmers, while minimising resource wastage by as much as 35%. Gro, a startup developing sustainable, nutritious and consistent animal feed, using a hydroponics system. Nature's Dry, Agro PV and AgroX all aimed at efficiently increasing food production and quality. A vegan burger made from locally sourced jackfruit developed by Go Green Exports under the sub-brand 'Marco Pollos' was also served for visitors to give their first hand feedback on the taste of the product
All 10 startups' spectacular demo day displays, which were individually curated to take visitors through an immersive journey, facilitated in-depth discussions between the startups and potential partners, customers and investors during the course of the evening resulting in over 20 stakeholder connections, who would be able to support them in the next part of their journey.
The Green Innovation Lab incubator program and final Demo Day proved to be a resounding success, providing numerous entrepreneurs and start-ups with invaluable guidance and essential resources to advance their businesses. Hatch remains committed to conducting similar programs in the future, under its newly formed vertical "Hatch Green" dedicated to assisting entrepreneurs across Sri Lanka in unlocking their full potential and fostering innovation particularly within the agriculture sector, ultimately leading to a greener future for the nation.

The Green Innovation Lab incubator program was supported through funding from both the European Union and the German Federal Ministry for Economic Cooperation and Development.
ENDS