First Capital, the pioneering investment institution and non-bank market leader in primary dealing, successfully concluded the 8th edition of the First Capital Colombo Symposium 2023, one of the largest investor symposiums ever held in Sri Lanka. The event themed "Invest with Impact, Seize Capital Market Opportunities" took place on July 4th, 2023, at the Shangri-La Hotel, Colombo and brought together a diverse group of investors, corporate leaders, entrepreneurs, and industry experts for an evening of insightful discussions and valuable networking opportunities.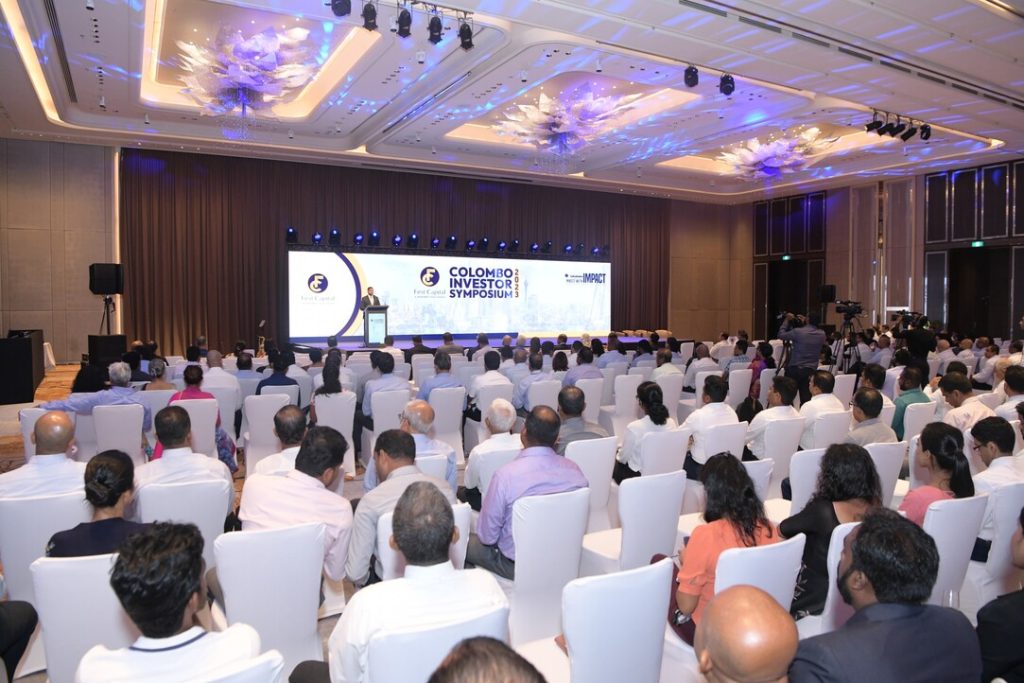 Keynote presentations were delivered by Dimantha Mathew, Chief Research and Strategy Officer of First Capital, and Ranjan Ranatunga, Manager – Research. They provided insightful perspectives on the current economic landscape, investment strategies, and capital market opportunities. During their presentations, they also reflected on their past predictions and their level of accuracy, while highlighting the extensive research and analysis that goes into their stock valuations. Additionally, they offered insights into what can be anticipated in the future regarding the investment landscape.
The highlight of the symposium was the panel discussion featuring distinguished veterans of the industry who focused on critical topics such as SOE privatization and debt restructuring, while the audience participated in an interactive Q&A session. The discussion was moderated by Nisthar Cassim – Editor/CEO of Daily FT, ensuring engaging and insightful dialogs.
Speaking at the panel discussion, Suresh Shah, the Chairman of the SOE Reform Unit of the Government of Sri Lanka, emphasized the importance of safeguarding citizens' interests through SOE restructuring. "It is essential that we assess the state-owned enterprises from the perspective of our citizens' interests and a competitive economy and make informed decisions about which entities should remain with the government and which should not. We must also implement mechanisms to improve the efficiency of government entities. However, in order for all of this to work, we need to establish a robust governance structure. The fundamentals need to change, and we should enact legislation to protect investor interests and provide credible investors an opportunity to contribute to the success of SOEs."
Dr. Nishan de Mel, the Executive Director of Verite Research stated, "There are two factors that will determine long term debt sustainability. One, is how deep the restructure will be. A deep restructure would ensure that restructuring once would be sufficient. A shallow restructure could necessitate restructuring more than once. Two, is whether Sri Lanka resolves its governance issues. On average, countries restructure their debt twice before they achieve debt sustainability. Verité Research conducted an analysis revealing that the differentiating factor between countries that restructure once and those that restructure multiple times is governance. Countries with higher governance indicators, as measured by the Worldwide Governance Indicators index of the World Bank, restructure only once, whereas those with lower scores tend to undergo multiple restructurings. Sri Lanka falls slightly within the category of countries with lower governance indicators, which typically leads to multiple debt restructurings."
During the panel discussion, Dimantha Mathew, the Chief Research and Strategy Officer of First Capital, expressed optimism for the bond market, stating "bond yields and market interest rates may potentially dip further to 11%-13.5%." He also projected a promising future for the stock market, predicting that the All Share Price Index (ASPI) could rise to 12,000 by the end of 2023 and potentially reach 15,000 by the end of 2024, creating attractive investment opportunities for investors.
The First Capital Colombo Investor Symposium is among the various initiatives undertaken by the Company to foster financial literacy and provide accessible knowledge on the investment landscape. As an award-winning research team, First Capital's research analysts conduct comprehensive analysis of macroeconomic indicators on local and global levels. They closely examine economic, political, and external factors, provide interest rate forecasts, and deliver market performance forecasts. First Capital is dedicated to conducting frequent research analysis on the government securities market, making them one of only two research units in the country focusing on this area. The company offers comprehensive reports on a weekly, monthly, quarterly, and daily basis, which are available through their website, social media channels, and the First Capital WhatsApp broadcast.
The First Capital Colombo Investor Symposium 2023 serves as a testament to the Company's commitment to empowering investors, fostering economic growth, and providing invaluable knowledge to the financial community. The event's resounding success further solidifies First Capital's position as a leader in the investment landscape and highlights their dedication to making a positive impact on the lives of all Sri Lankans through financial solutions.