Lions Clubs International recently signed a MoU with the Ministry of Education to kick start the 'Protect Child Nutrition' program, an island-wide project toease the starvation and malnutrition of children of Sri Lanka as a result of the current economic conditions. The project is launched with the key objective of providing a much-needed daily meal to thousands of school children across the country over a period of 3 years.
It is imperative that the general public join hands through donations, to become a part of this extremely worthwhile and necessary cause, in order to ensure that the nation's children successfully fight starvation and malnutrition, and live healthy and happy lives.
Commenting on the 'Protect Child Nutrition' program, Mahendra Amarasuriya, Past International President of Lions International said, "It is imperative that we do what we can, to help our children in need and ensure that they do not suffer from starvation and malnutrition. We are certainly glad to be able to do our part by organizing this project and providing a platform to collect donations for this incredibly worthy cause of helping our children. We encourage everyone to do their part and come forward with your generous donations as well."
More details on 'Protect Child Nutrition' project can be obtained on https://www.lionsmd306.org/.
The valued donors are invited to make a remittance to the following designated account:
Account Name : Lions Clubs Int MD 306
Bank : Commercial Bank
Branch : Rajagiriya
Account : 1000574089
The 'Protect Child Nutrition' program is spearheaded by Lions Clubs International MD 306 Sri Lanka bringing together the strength of over 17,000 Lions serving in all corners of Sri Lanka. This timely initiative is conducted in partnership with Sarva Colombo, the Official Creative Partner; Sarva Digital, the Official Digital Partner; and PR Wire, the Official Public Relations Partner.
END
Image Caption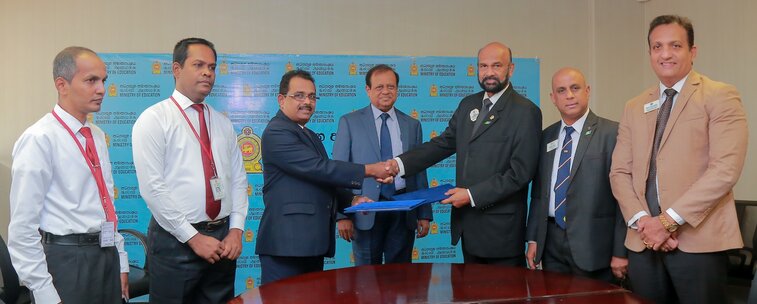 Representatives of Lions Clubs International at the MoU signing held at the Ministry of Education