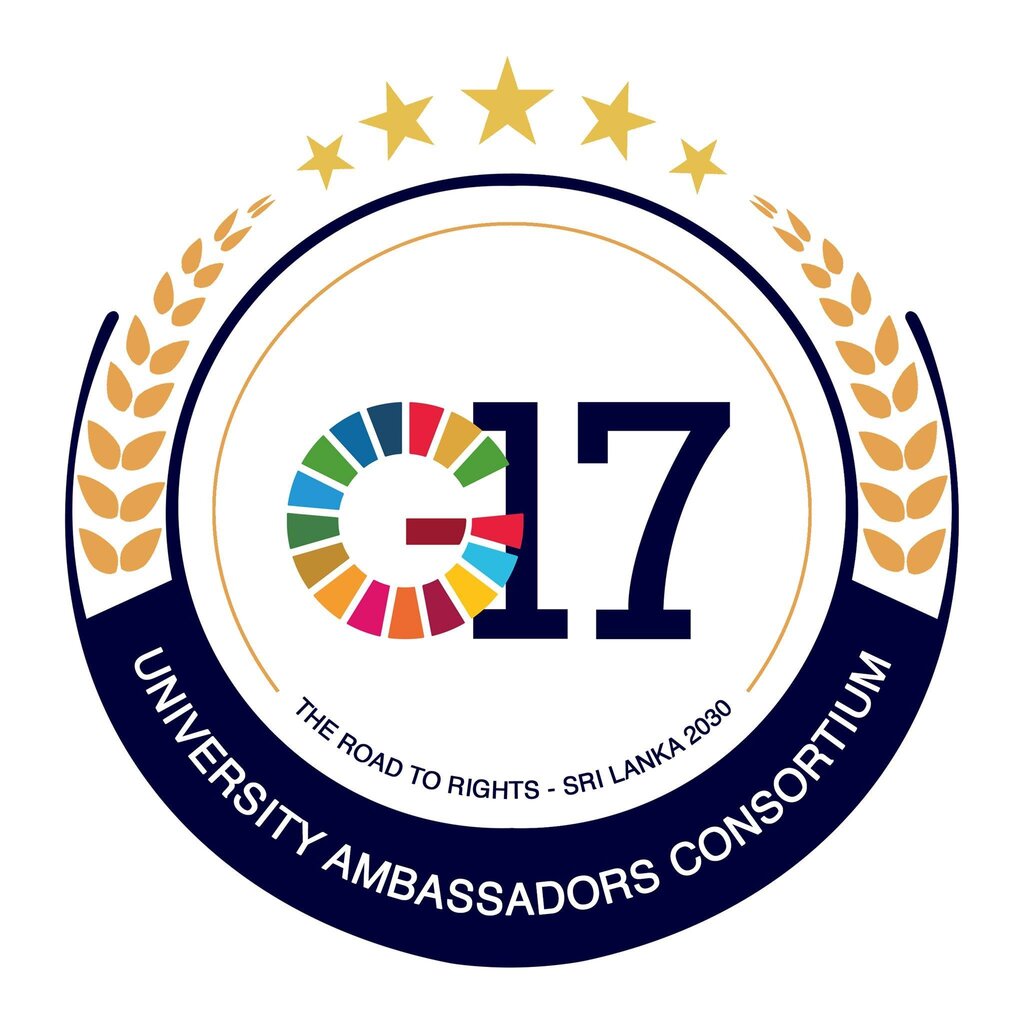 The G17 University Ambassadors Consortium (G17UAC), the brainchild of the Sri Lankan youth-led, voluntary organization and the recipient of the United Nations SDG Action Award 2018 "The Road to Rights", is a global undergraduate programme that engages the youth in making Sustainable Development Goals (SDGs) a reality.
This undergraduate programme facilitates a platform for youth engagement and capacitates the future workforce. The programme encourages undergraduates to take up responsibilities, enhance transferable skills and positively contribute to national and global development. Through capacity building, leadership, policy-advocacy, and action, the four pillars of G17UAC, the program empowers the youth to pioneer the implementation of SDGs in a plethora of professions and industries upon joining the workforce.
It is crucial to encourage the youth to work towards SDGs at the university level as they are able to foster innovative solutions, scrutinize the decisions taken by authorities, prompt strategic action and policies to promote SDGs and build partnerships and networks that facilitate SDGs at the grassroot level.
In 2021, G17 was established in 10 universities and has successfully completed nearly 170 projects for SDGs across Sri Lanka. 17 young ambassadors have been appointed from each university who will strive to implement their respective SDG goals through projects, workshops, advocacy campaigns and other activities.
The 2022 cohort comprises over 2300 undergraduates from 74 universities in 15 countries including Philippines, Brazil, Hong-Kong, Malaysia, Pakistan, Tanzania, Ghana, Sri Lanka, India, Bangladesh, Nepal, Russia, Sweden and Bhutan.
The annual G17 Sri Lanka Summit 2022 will be held on the 16th of December this year from 2:00 PM-6:00 PM at the Duncan White Hall, Ministry of Youth and Sports. It will be graced by the presence of many dignitaries and the participation of over 300 is anticipated from 22 different universities across Sri Lanka.
Founder of G17 UAC and The Road to Rights Mr. Ashan Perera added saying that, "young people are creating change everywhere we look. And through the G17 network I saw young people who are changemakers, activists, social innovators, disruptors, dreamers, doers, who believe social and environmental change is possible. And we want them to take this inspiration to the community and the industries where they can act on and make change happen."
The conference will consist of two panel discussions on its overarching themes, 'the future of work' and 'youth leading system change for climate change' which will be followed by the Awards Ceremony. The Annual Summit is the culmination of the dedication of those who are a part of this program who strive to make its vision a reality. It is with great pleasure that the G17UAC warmly welcomes all of you to its Annual SDG Summit for the year 2022!