Huawei Sri Lanka as a responsible corporate citizen in the country, recently committed and pledged emergency relief to vulnerable communities affected and impacted due to ongoing economic challenges faced by the country through the 'Manudam Mehewara' initiative. This multi-corporation humanitarian alliance was initiated by Dialog Axiata PLC, MAS Holdings Pvt Ltd, Hemas Holdings PLC, execution partner Sarvodaya Shramadana Movement and independent auditor PwC Sri Lanka, with CBL Group, Citi, Sunshine Holdings PLC and Huawei Technologies Lanka Co. subsequently partnering the initiative.
Together with its like-minded corporate partners the 'Manudam Mehewara' initiative aims to provide emergency relief to more than 200,000 vulnerable families across Sri Lanka. Emergency relief is currently being distributed across all 25 districts, where over 75,000 families in-need have been assisted to date. The Manudam Mehewara programme will conducts its relief effort until a sustainable benefit transfer system is established in the country through an effective economic recovery plan.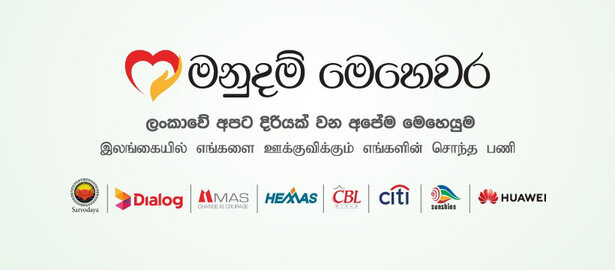 Speaking on this occasion, Liang Yi Chief Executive Officer of Huawei Sri Lanka said "We are saddened to witness the recent economic challenges which a significant portion of Sri Lankans have to undergo recently. We also witness the country and its people showing great optimism and resilience in front of the crisis. As a global ICT provider and a responsible corporate citizen, Huawei has always been committed to promoting development not only in the ICT sector in Sri Lanka but has also placed high hopes on the future of this country. We are deeply inspired by Dialog's determination in "Manudham Mehewara", and we believe under multi-party cooperation, we can extend our help to those who need them the most. Therefore, Huawei decided to join hands with our strategic partners Dialog Axiata to provide support to families affected by the ongoing challenges. We believe empowering the community can bring confidence to people in overcoming difficulties."
"As a part of our initiative 'In Sri Lanka, For Sri Lanka – Here for you'. Our effort is to uplift people in Sri Lanka to be a resilient nation as Sri Lankans had always been" Liang Yi added.
Commenting, Pradeep De Almeida, Group Chief Technology Officer of Dialog Axiata PLC said, "On behalf of all the partners of this humanitarian mission, I would like to convey my deep appreciation to Huawei for joining this country-wide effort of supporting the most vulnerable families impacted by the current economic crisis. Our aim is to support 200,000 families or more, and to reach this goal, we call upon more like-minded corporate partners to join us. We have always believed that together we can make a difference, and as the preferred digital companion of over 17 million Sri Lankans, we consider it our responsibility to support our communities in their greatest hour of need."
Over the past years, Huawei has continuously come forward and assisted impacted communities in Sri Lanka during the Covid-19 pandemic outbreak, natural disasters, and floods in earlier years. Huawei has also promoted the development of the ICT talent ecosystem in Sri Lanka through activities such as the Huawei Seeds for the Future program that was launched in 2016, providing internships for talented youth, and ICT Skills industrial training.
Huawei has been in Sri Lanka for more than two decades and has extensive and in-depth cooperation with local mainstream telecom operators, governments, and industry customers. Huawei is strongly committed to continuously developing high-level information and communications technology in Sri Lanka.
Photo caption
left to right – Dr. Vinya Ariyaratne, President, Sarvodaya Shramadana Movement, Liang Yi, Chief Executive Officer, Huawei Technologies Lanka Co. Pvt Ltd, Pradeep De Almeida, Group Chief Technology Officer, Dialog Axiata PLC, Kavinda Manjula, Senior Product Solution Manager, Huawei Technologies Lanka Co. Pvt Ltd
About Huawei
Founded in 1987, Huawei is a leading global provider of information and communications technology (ICT) infrastructure and smart devices. We have more than 197,000 employees, and we operate in more than 170 countries and regions, serving more than three billion people around the world.
Our vision and mission is to bring digital to every person, home and organization for a fully connected, intelligent world. To this end, we will drive ubiquitous connectivity and promote equal access to networks; bring cloud and artificial intelligence to all four corners of the earth to provide superior computing power where you need it, when you need it; build digital platforms to help all industries and organizations become more agile, efficient, and dynamic; redefine user experience with AI, making it more personalized for people in all aspects of their life, whether they're at home, in the office, or on the go. For more information, please visit Huawei online at https://www.huawei.com/en/