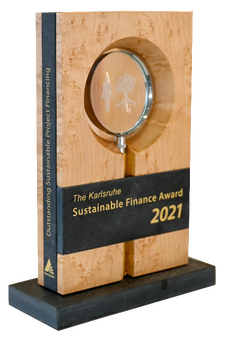 Alliance Finance Co. PLC, (AFC), Sri Lanka's oldest finance company with over 65 years of expertise in offering affordable and inclusive sustainable finance solutions to empower the nation has clinched yet another international award in sustainability. The Project which helped AFC win this important award was the "One million trees for unity" project.
The Karlsruhe Sustainable Finance Awards 2021, conducted by the European Organisation for Sustainable Development (EOSD), awards projects have created a positive impact in the field of sustainability, globally. This is the third sustainability award, Alliance Finance has bagged in the year 2021.
The "One million trees for unity" project which was initiated by AFC in 2018, aims to plant one-million tress across Sri Lanka by 2025. This project mainly aims to reduce the carbon foot print of Sri Lanka by 120,000 metric tons by the year 2030. It also provides a significant contribution to Sri Lanka's National Bonn challenge; which aims to increase the forest cover of Sri Lanka to reach 32% by 2030. Under this project, AFC has planted over 380,000 plants to date in partnership with the Road Development Authority (RDA), Lion's Club, Tri forces of Sri Lanka, various Universities, schools, places of worship, municipal councils and urban councils. These plants are spread across all highways, road networks, the Norochcholai power plant, schools and especially places of worship. This project also has created several social benefits to its stakeholders one of which is empowering the social entrepreneurs and facilitating livelihood development. This is mainly by means of supporting its main supplier of plants for this project, Mr. Jayantha Balasinghe. He is a social entrepreneur who emerged from the unique "Ath Pavura" social business platform of which AFC was also a founding social enterprise investor. Mr. Balasinghe's organization "Thuru Viyana" supplies well grown plants to be re-planted, providing a better chance of survival for the plants. By making Thuru Viyana the main supplier for all its projects, AFC has helped this social entrepreneur grow his business as well as provide livelihood support to its many employees. As such, the impact of this project directly contributes towards several UN Sustainable Development Goals.
AFC has also financially sponsored an initiative by the RDA to create a dedicated website and mobile application to track the tree planting programs initiated by RDA. This will help effective record keeping and progress monitoring of their two million tree planting project "maga depasa thuru sevana". AFC is also a partner in this "maga depasa thuru sevana" project with a pledged contribution of 800,000 plants, to be given over a span of four years.
It was for reasons such as this, that AFC's 'one million trees for unity' project was judged and presented with this prestigious award.
Speaking about this award, Deputy Chairman and Managing Director of AFC, Mr. Romani de Silva stated, 'We are truly honored to be the recipient of this prestigious award. We at AFC, constantly thrive to be the best at what we do and this award is a testament to that. We look forward to continuing and improving our sustainable finance activities in the new year and increasing the positive impact we make on the sustainable development of our nation".
AFC allocates 4% of profits to conduct social and environmental sustainability initiatives annually. Apart from sustainability initiatives, AFC annually contribute towards many CSR activities including sponsorships and donations to charitable institutions. All sustainability activities undertaken by AFC provide a multitude of benefits to the environment and society whilst all activities tie into and contribute towards an array of both national and global sustainable development goals and priorities. AFC's investment on sustainability initiatives during the 2020/21 financial year was over Rs.12 million and the pledge for 2022/2023 is Rs. 40 million.
AFC has integrated the principles of sustainability and best practices into its core business model. In 2012, the company adopted the triple bottom line business approach of People, Planet and Profit, by formally institutionalizing the ethos and values of its founding forefathers. In 2018, the Company was accepted to apply for the Sustainability Standards and Certification Initiative (SSCI) and became a value driven financial institution certified in holistic sustainability which has helped to further enhance the sustainability initiatives and values of AFC. In recent years, AFC has initiated and developed multiple programs focusing on environmental and social wellbeing. Multiple investments, partnerships with like-minded stakeholders have been initiated by AFC as well, whilst working hand in hand with the industry partners on sustainable development.
Photo Caption
From Left: Tom Hoyem, Town Council Member in Karlsruhe and former Cabinet Minister of Denmark, Vivekachandran Darma Hon. Consul of Sri Lanka in Germany accepting the award on behalf of Alliance Finance Co PLC, Arshad Rab, Chairman, International Council of Sustainability Standards for Value-Driven Financial Institutions and CEO of European Organisation for Sustainable Development, Germany
About EOSD
EOSD is a globally known pioneer in developing and executing innovative and ecologically sustainable strategies, market development programs and other initiatives that contribute in the implementation of EU Strategies for Sustainable Development. It has partnerships with government institutions, strategically important associations, and key players in the financial sector to fast-track sustainable economic development and environmental protection. It has become a recognized and well-respected enabler of sustainability worldwide.
About Alliance Finance Co. PLC.
Alliance Finance Co. PLC is the oldest finance company in Sri Lanka with a legacy of over 65 years of serving four generations of loyal customers whilst proactively supporting financial inclusion and sustainability. It is the first company in both the Banking and Finance sectors of South Asia to become a certified financial institution in holistic sustainability, under the pioneering Sustainability Standards and Certification Initiative (SSCI). SSCI is the first measurable and certifiable sustainability standards developed in Germany by the International Council of Sustainability Standards for Value-Driven Financial Institutions – a sustainability initiative of the EOSD. AFC has a shared vision to foster growth and prosperity of its customers while building trust and long-lasting relationships with them. Environmental and sustainability initiatives are at the center of AFC's sustainability agenda, which embodies the company's drive towards "making the world a better place through sustainable finance".